Drive yourself a 4X4 on african tracks
Presentation of the tour :
The adventure we will talk about is only made for lovers of 4x4, motorcycles and discovering. These one permit you, thanks to exceptional geographic data, to cross swords with the pleasure of discover authentic Africa, not only through the sand but also laterite even rocks.
Unforgettable will be « the attack » of the Dogon's country cliff.
We offer you to discover an area with the best conditions, that only Burkina may offer you: the authenticity is the queen also for the landscapes than human relations.
Here, the traveller is always welcome with pleasure,
Here, the world « hospitality » takes on all its sense,
Here, there is Africa in all its magnificent, its harshness, its simplicity, its magic... you will meet.
Into practice, you will be release from every worry like assistance; accommodation... and cooking, thanks to the cooking team, which will accompany you.
And, in order to satisfy everybody, you will drive the vehicles in turn, as it's usually practice.
Your vehicles will be 4x4 diesel TOYOTA or NISSAN (in the majority).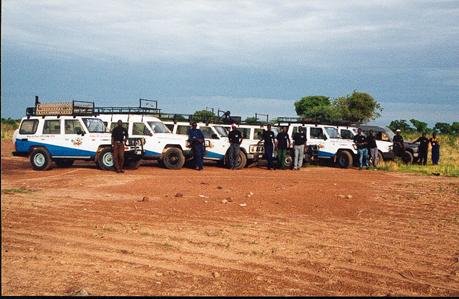 From SAHEL to DOGON's country
Day 1 : arrival in OUAGADOUGOU, participants are welcome at Grand Calao around a friendly drink ; presentation of the tour and attribution of the vehicles (and formalities).
Day 2 : Ouagadougou / Gorom Gorom
Leave OUAGADOUGOU early morning, road tarred until KAYA, then by a track, stop at BANI, famous for its seven mosques made of mud. Dinner and sleeping in bivouac near Gorom Gorom.
Day 3 : Gorom Gorom / Déou
You will discover Burkinabe's Sahel : after had joined Markoye by a picturesque track following unmarked trails (the guide knows his way), we will cross through small villages seemingly "at the end of the earth". We will arrive in OURSI, where sand dunes and a pond are covered by thousands of birds, which share this magnificent landscape and give witness to the delicate ecological equilibrium. We will then come back by the trail, which will take us to DEOU where we will spend the night in bivouac.
Day 4 : Déou / Djibo
After the breakfast, you will ride towards West through some majestic landscapes ... After administrative formalities in DJIBO, we will leave Burkina Faso for Mali. We will cross Peulhs' villages (nomad breeders) where you can admire some nice Togunas (palaver huts) until to DOUENTZA where we will find a place for the bivouac.
Day 5 : Douentza / Banani
Approached the famous cliff, you will see that the landscape is changing : rocks, sandstone ... You will arrive in the small village named BANANI under the cliff, where a Dogon's guide will tell you the legend of his country. Bivouac under the cliff.
Day 6 : Banani / Dorou
After a nice sun rising, you will discover dogon's villages like : IRELLI, POGUE, TIRELLI by feet, because it is the best way to discover Dogon's country. From one village to another else, you will ride by some sandy tracks. You will set up the bivouac not so far from the village of DOROU.
Day 7 : Dorou / Ouagadougou
By a sandy track, you will leave Dogon's plain for Burkina Faso passing by KORO, where you will carry out border formalities. Lunch in a restaurant in OUAHIGOUYA. Arrival in the afternoon in Grand Calao Inn.
Day 8 : town trip : bronze makers district, craftsmen village or center , for last souvenirs shopping. Transfer at the airport at the end of the afternoon.
RATES and CONDITIONS
RATES :
Group of 12 to 24 people, from 3 to 4 people / vehicle.
Rate : 1 212 € / people
REGISTRATION conditions :
Your participation should be confirmed later 30 days before departure, with a wire of 50 % of the total rate , and the balance at the check of the tour
CANCELLATION conditions :
A cancellation, less than 30 days from departure will give rise to compensation, calculated like that:
- Less than 30 days : 30 %
- from 8 to 15 days : 40 %
- less than 8 days : 50 %
- no show : 100 %
RATE INCLUDED :
- shuttle airport / hotel / airport
- full board during your stay in Burkina
- the vehicles 4x4 or bikes
- gasoline
- vehicle or bike insurance and taxes
- the entries in place of interest
- one interpreter for the group
- the tour guides.
EXCLUDED :
- flight for Burkina ( contact us ) and cancelled insurance
- drinks
- tips
- visas
- personal byes
- repatriation insurance.
TECHNICAL DATA SHEET
1. The drivers must have their international driver licence.
2. The vehicles are 4x4 diesel TOYOTA or NISSAN with a roof rack, 2 spare wheels, a first aid kit and a reserve of 40 l water.
3. The concept of competition must be turned down of the members' mind.
4. In case of serious fault, impudent action, dangerous driving or risk to make worse the vehicles, our tour guide could, at any moment, stop the trip and replace the client by one of our tour company's driver, at the expense of the clients.
5. We pick up you at the airport. The first dinner, the first night and meals of the last day are taken in a hotel - restaurant 3 stars.
During the trip :
At noon, either a picnic ( copious mixed salads + cheese + dessert) or lunch in a local restaurant ( broiled meat + fruits).
The evening, friendly bivouac around a campfire with good ready-cooked dishes, fresh drinks, service staff.
Breakfast : coffee, milk, tea, butter, honest, broad, cake...
6. Camping equipment is included ( tents with mosquito net and mattress ): tents, mattress, cooking equipment, water bottles...
7. Driving in Africa on tracks or sand is not the same as in Europe. Beyond a modest convenience, hazards are various. The drivers could take due note of the recommendations and instructions which will be indicated.
8. An all weather refresh truck, specially equip ( fridge, water tanks, shower cabins and bush WC ) and a cooking staff wait after you every evening in the bivouac.
9. A road-book will be give to every team at the beginning of the tour.
PRACTICAL DATA SHEET
· Passport current valid stamped with visas.
CAUTION : several visas if several countries crossed.
· Treatment anti-malarial very advised ( SAVARINE ).
· Vaccine against yellow fever ( hepatitis, meningitis, tetanus advise ).
· Keep off synthetic clothes, prefer cotton clothes.
· To drive, no shoes like « TONG », prefer basketball boots, walking shoes or closed sandals.
· Take some cream or anti-mosquito lotion.
· Protection against sun, cream, sun glasses, hat or cap.
· According to the season, take clothes with long sleeves like SWEET SHIRT. In the SAHEL, in January at 7 AM, the temperatures are between 10 to 12°C.
· Take your sleeping bag – if you forget, tell us at your arrival, we will give you a covering.
· Tell us, as soon as possible, if you might go on a diet ( we will do the max to agree you )
· In case of medical treatment, don't forgot the good medicaments quantity you need during your stay in Africa…
· Prefer a small travel bag to a big case and prefer plastic bottles to glass bottles for your perfumes or medical products.
· Don't forget anti diarrhoea like IMMODIUM or INTETRIX.
PS : if you are just some friends, or if you want discover another place or country : don't hesitate contact us, we are at your disposal for your pleasure...